New Features
Open Data Market Samples
To highlight the value and utility of Capella SAR products to the Open Data Community, we have provided direct links to sample datasets for each of seven target vertical markets.
A 'Market Samples' link has been added to the 'EXPLORE' menu on the main Console screen at this release. This link displays a list of target vertical markets:
Defense & Intelligence
Energy & Natural Resources
Public Infrastructure Monitoring
Humanitarian Assistance & Disaster Relief (HADR)
Insurance & Risk Management
Maritime Domain Awareness
Finance and Commodities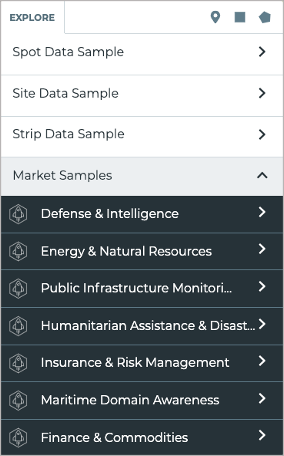 Each target market in the list provides a link to an image in the Open Data collection for a location that is illustrative of a use case or application of SAR data in that market or industry.
Additional Changes
New Account Link
The 'Create an Account' link on the main Console login page has been replaced by a link to 'Join the Capella Open Data Program'. This link will redirect to the 'Capella Space Open Data Gallery' page where the user can browse example SAR datasets or fill out a form to join the Capella Open Data Program. A similar change was made to the 'Forgot Password' and 'Change Password' pages as well.
New user requests will be routed through the existing 'Community' resources on the Capella website for a more seamless and coordinated user experience. New user requests for accounts within existing organizations can continue to be routed through the respective Organization Manager or Customer Service Manager.