New Features
Open Data and Archive Catalog
New Explore search links allow users to quickly access Spotlight (Spot), Sliding Spotlight (Site) and Stripmap (Strip) data samples. Furthermore, additional free sample datasets can be downloaded for from the Capella Console by searching the catalog with 'capella-open-data' collection filter applied. These sample SAR imagery products have a preliminary calibration applied, we are working on refining absolute radiometric calibration and antenna compensation.
Moreover, over 500 additional SAR imagery products are now available for purchase from our archive catalog. Imagery can be find filtering by areas and collection, 'capella-slc' and 'capella-geo' for Capella archive catalog and 'capella-open-data' for free Capella open data.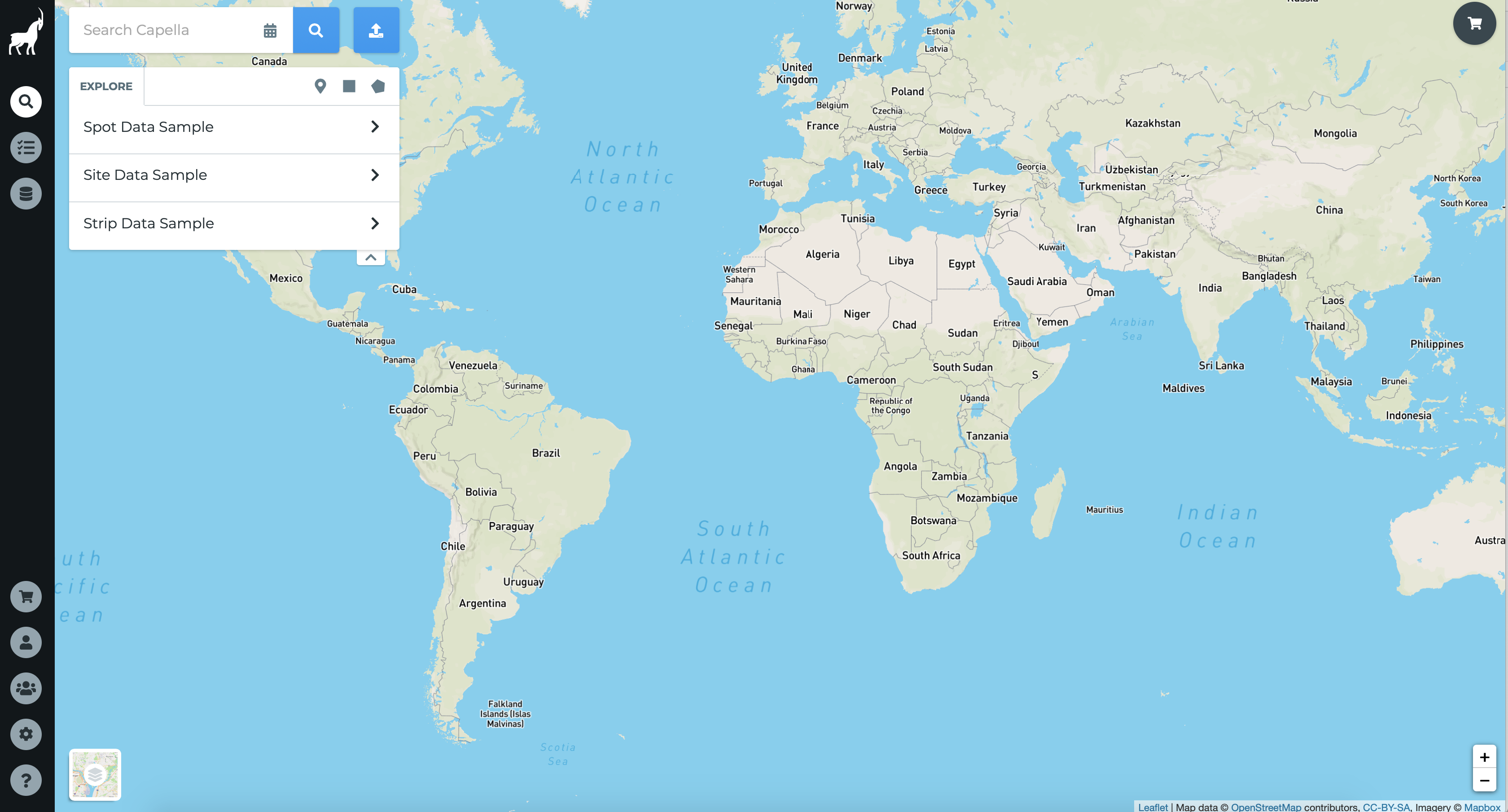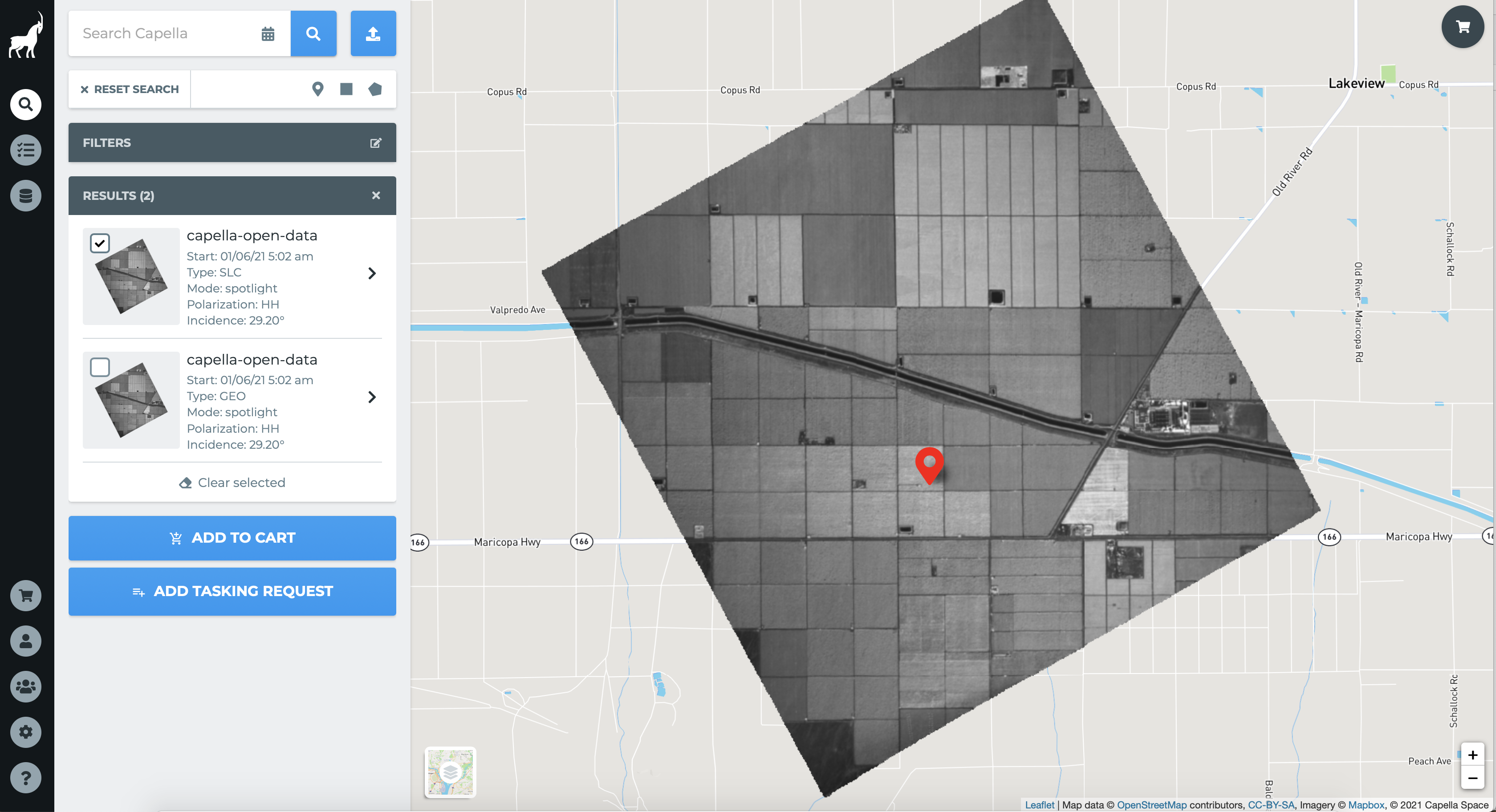 Tasking Request Cancellation
We implemented the ability of cancelling tasking requests after their submission.
Tasking requests that have
A
ccepted or
A
ctive status
can be cancelled by
the
user that submitted the request using either the Capella Console or
Capella
API.
If an order is cancelled
the following cancellation policy applies:
Cancellation > 72 hours before first

collect

of order = cancellation available at no charge

Cancellation 12 - 72 hours before first

collect

of order = cancellation available at 25% charge of full order value

< 12 hours before first

collect

of order = no cancellation allowed with 100% charge of full order value
This cancellation policy applies to individual new acquisition tasking orders on a tasking-request-by-tasking-request basis. If multiple separate tasking requests are submitted to cover a very large area or repeatedly collect an area-of-interest (AOI) to build a multi-temporal series the cancellation policy applies to each individual tasking request separately. Once a tasking request is scheduled users can access the collect times and determine the acquisition time for the first collect of order using either the Capella Console or Capella API (REST).
Furthermore, for individual tasking requests which require multiple collects to cover the area-of-interest (AOI) the cancellation deadline is determined by the very first collect. Consequently, once the 12-hour deadline is passed for individual multi-scene tasking orders the new acquisition tasking order can no longer be cancelled, all data products will be acquired & delivered, and full order value will be charged. Finally, if a tasking request is automatically rescheduled by the constellation tasking system within the scope of the designated acquisition window duration the cancellation deadlines reset and are moved in timeframe along with the rescheduled tasking request.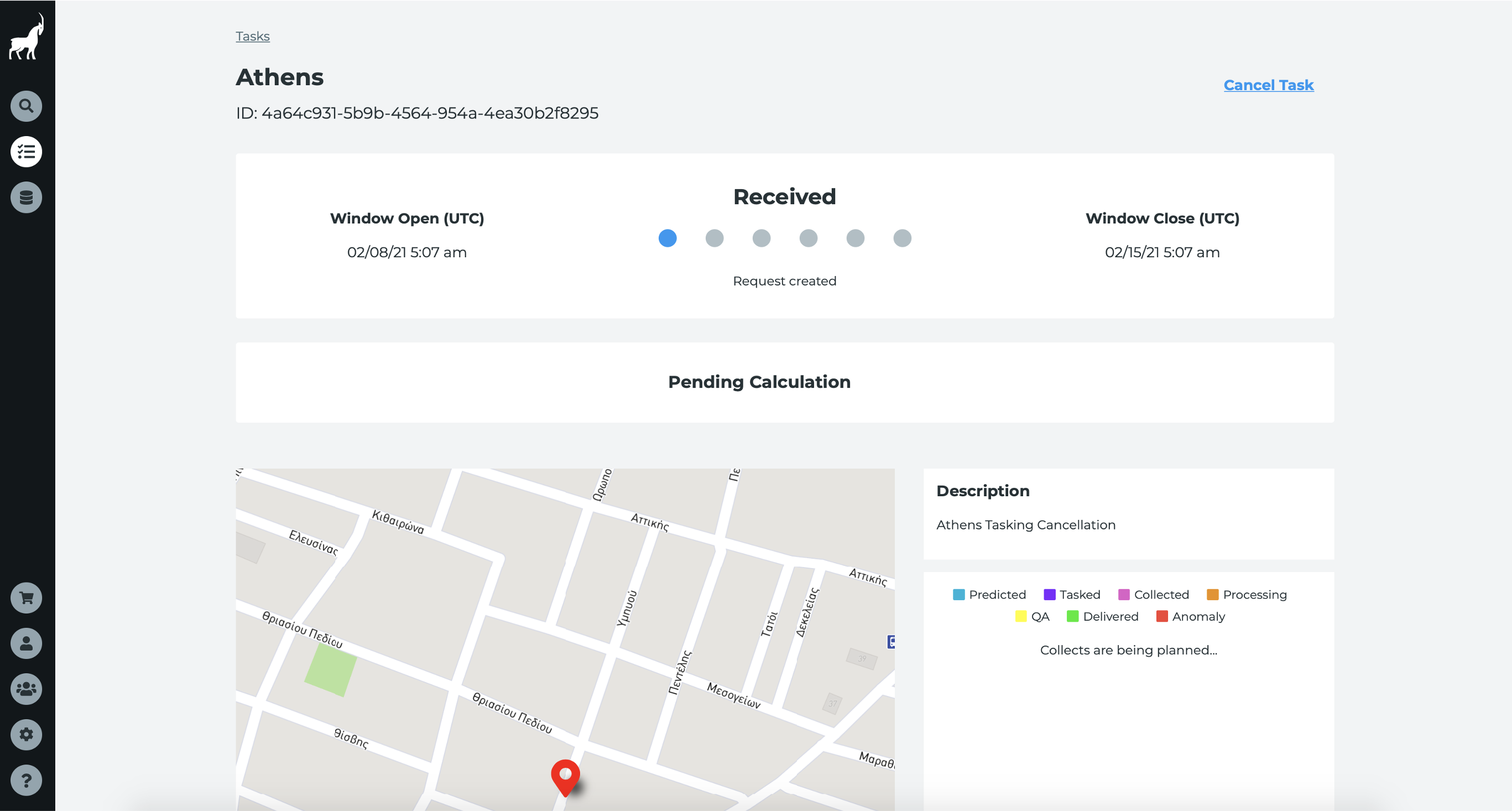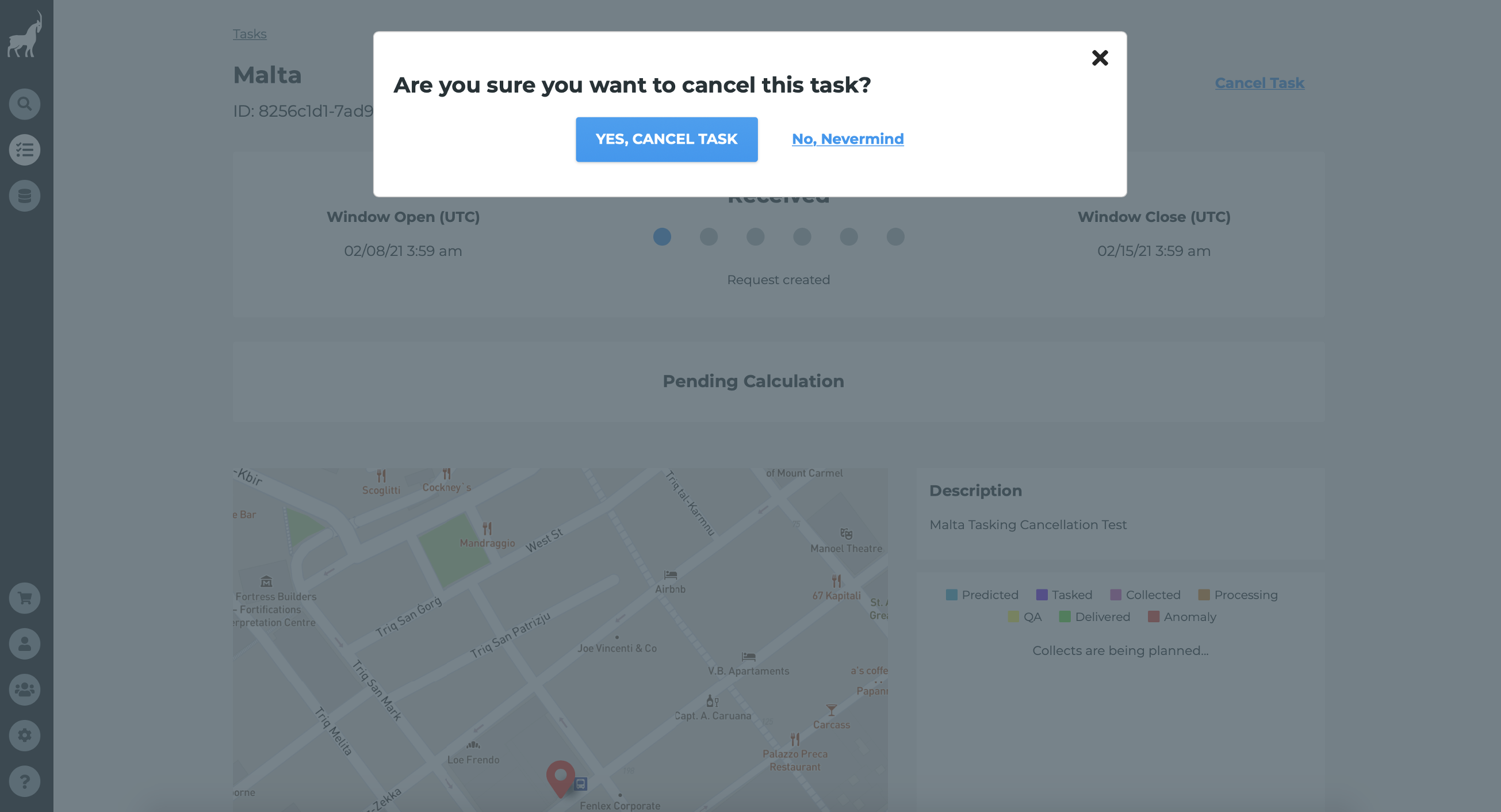 Enhancements
Add Multiple Items To Cart
Now a user can add multiple items from the results list to the cart without clicking into the product details. A button was added to select items to be added to the cart.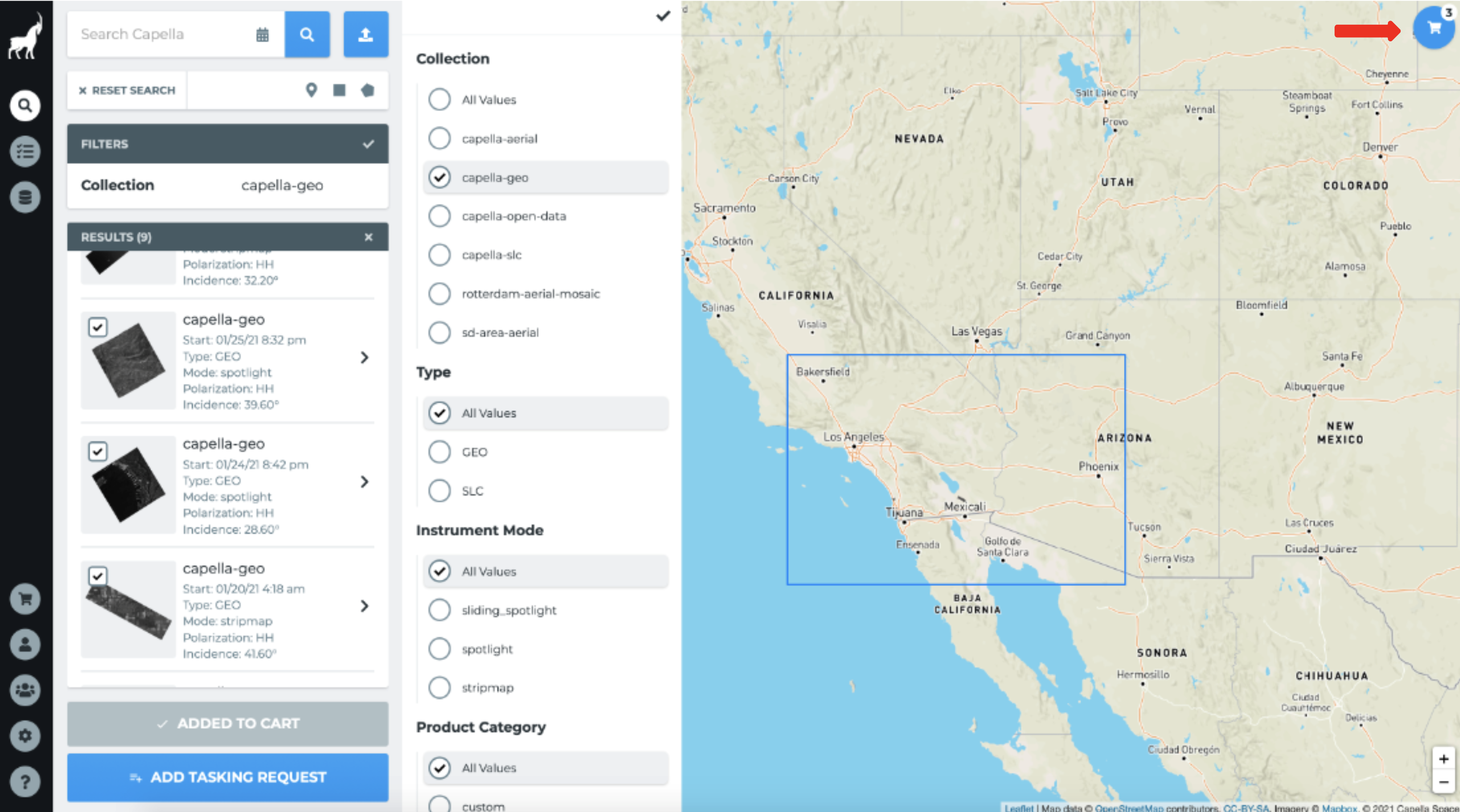 SAR Imagery Products - Dataset Asset Downloads
When a SAR imagery product is ordered (from archive) or delivered (from tasking) the STAC metadata file is now available as one of the dataset assets that can be downloaded. According to Capella's official SAR imagery product format specification any given dataset is comprised of 3 separate files (Raster image data file; STAC metadata file; Extended metadata file):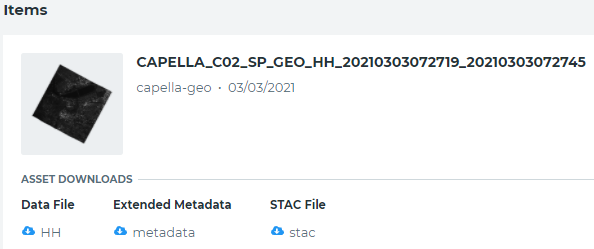 Users are encouraged to download all 3 files so any given dataset is complete in alignment with Capella's official product specifications including full metadata which ensures best possible compatibility with geospatial software applications, scripting languages, toolkits and integrated programming development environments.
New Acquisition - Collect Statuses
We added two new collect statuses and related messages for "collection anomaly" and "processing anomaly" to provide more transparency on the current state of new acquisition tasking requests.
When a collect goes to "collection anomaly" an aberration has occurred during SAR data acquisition where the imagery product does not pass our quality assurance and cannot be delivered. In the "collection anomaly" state, if there is still time in the tasking request acquisition window duration the constellation tasking system will automatically try to re-schedule the collect. A new collect ID will be associated to the existing tasking request. The collection anomaly state will be a terminal state for the original collect that failed QA.
"Processing anomaly" is a rare collect status that occurs when our automated processing pipeline is not able to process a collect for a variety of reasons. In this case the collect has reached a terminal state and the scheduler will not automatically attempt to re-collect so if the new acquisition is still important the user must submit a new tasking request.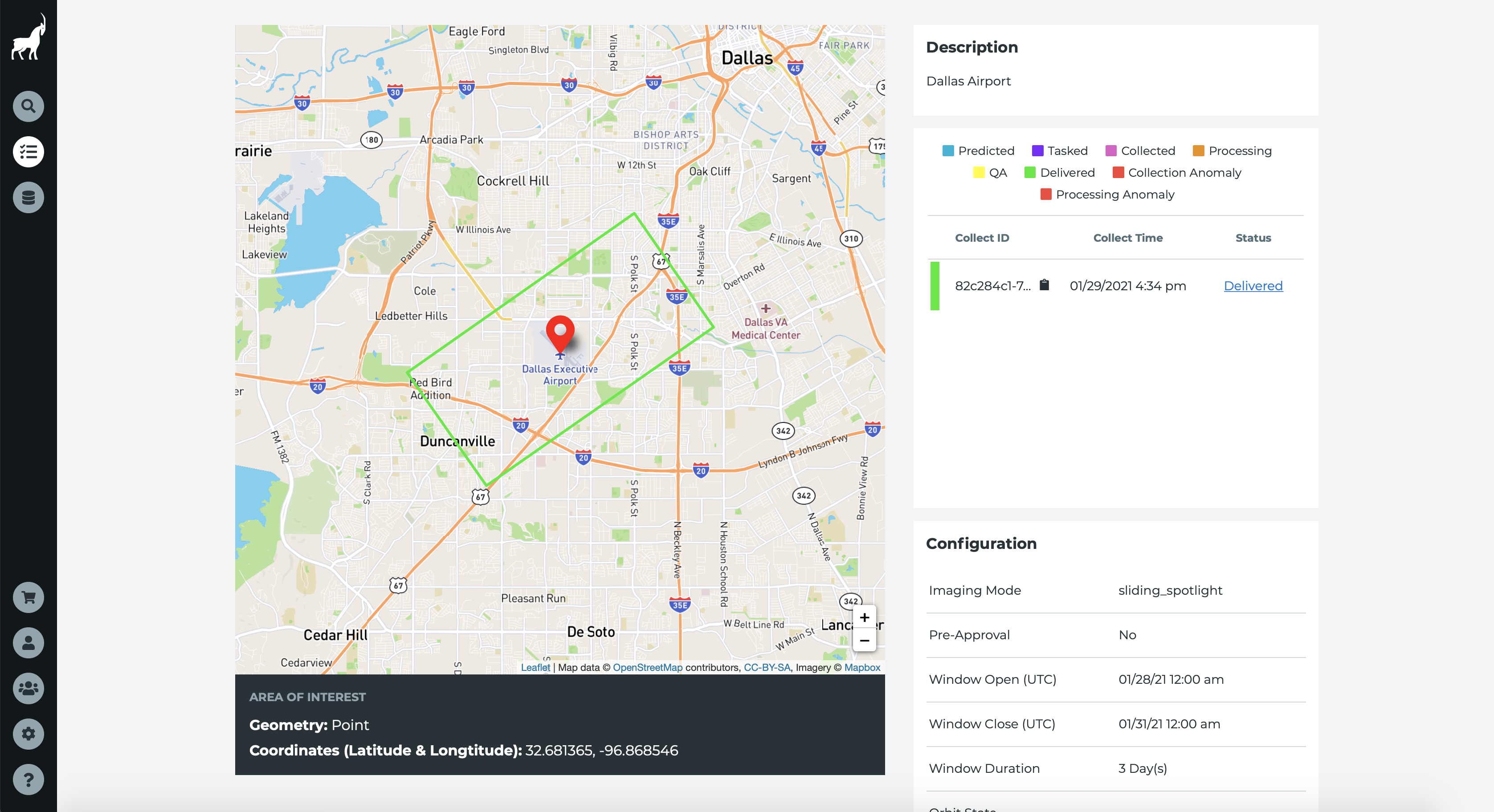 Fixed
Update E/W in the coordinates displayed on tasking requests on Console to facilitate copy/paste of the tasking coordinates.
Duplicate products in the archive catalog have been resolved.