New
Change Detection analytic product
We are thrilled to introduce the availability of Capella's Change Detection product. Change Detection is a versatile offering that highlights detected changes between Capella image pairs to speed up image interpretation and identify changes that might be missed in visual analysis.
Once an Organization has been given access to Change Detection by a Capella Administrator, users can simply place repeat tasking orders over their specific points of interest and when complete, explore the underlying imagery as well as an automatically generated Change Detection product through the Capella Console or API.
The Capella Support website includes an Overview of the Change Detection product and a comprehensive video demonstration showing the full suite of available capabilities. Additionally, there is detailed information on the main steps in a user's Change Detection workflow: Tasking, Analytic Production, and Viewing and Downloading.
For access to Change Detection on Console or through the API, examples, and further information please contact your Capella Representative or Capella Support.
Below, you can see an example of Change Detection applied to an image pair from the most recent Burning Man event: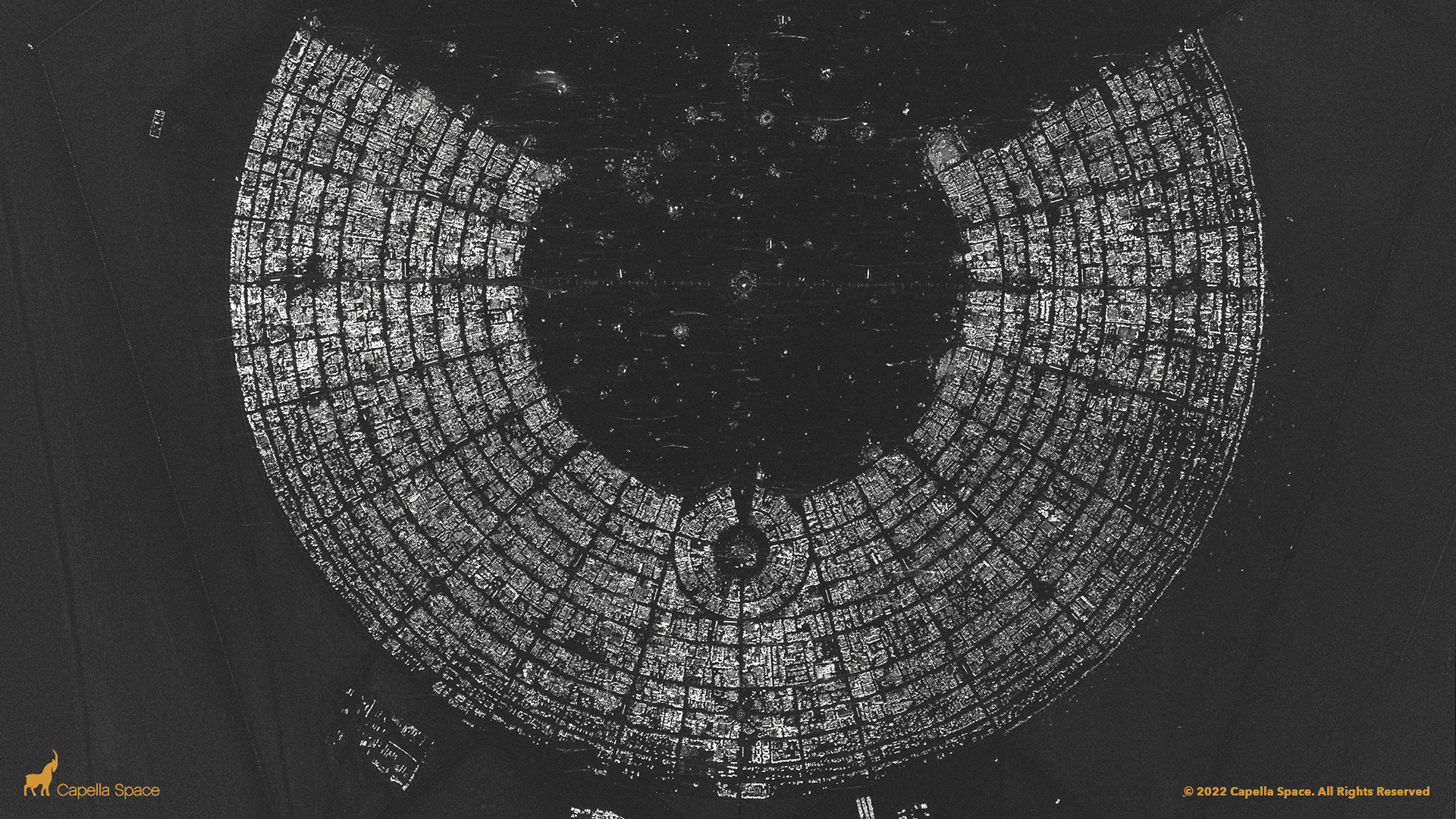 Every year tens of thousands of people gather in the Nevada, U.S. desert for Burning Man. Using the "red-fled, blue-new" standard for visualizing change between a pair of Spot images taken at the beginning and end of the festival, Change Detection reveals attendees flocking toward the symbolic burning of the wooden "Man" in the center of the festival grounds on the closing night.
Improved
Push to AWS S3 Data Delivery
For convenience and flexibility, Capella users already have the option to deliver new tasking data or archive order data to a customer managed AWS S3 bucket.
At this release, we've included two new capabilities to the Capella Push to S3 data delivery mechanism:
1. Support for multiple buckets
A single organization can be configured with multiple S3 buckets for situations where data needs to be routed to more than one destination. An Add Bucket Config link is provided to define a new bucket configuration and a table displays all buckets that have been configured for the organization. Additionally, each bucket can be individually enabled or disabled and existing buckets can be modified via the Edit button.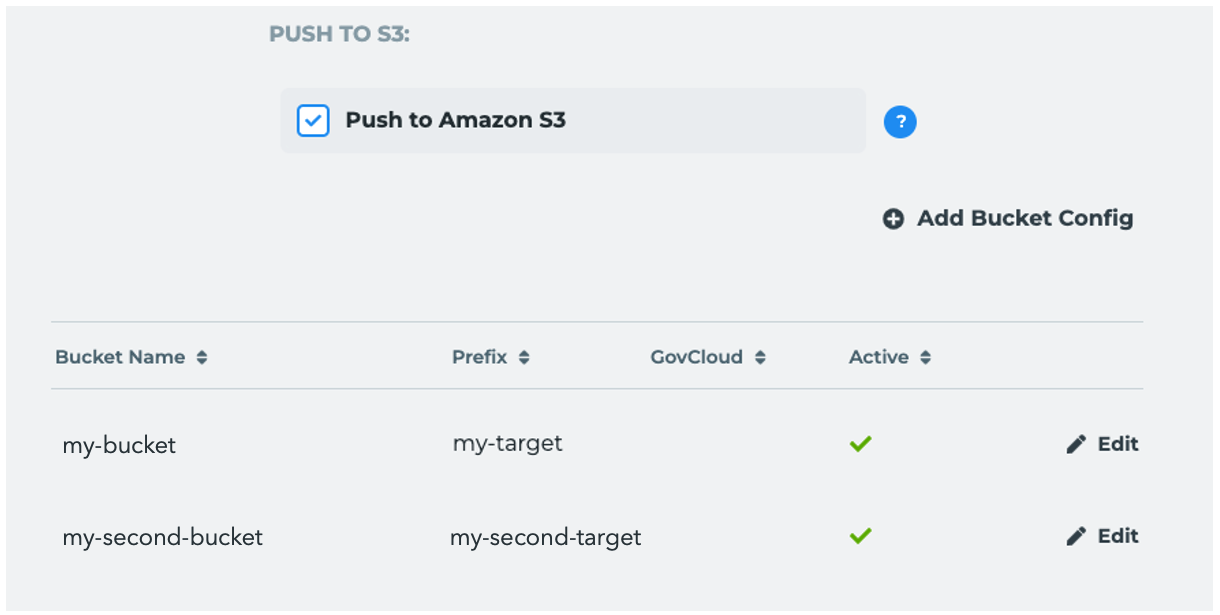 2. Support for GovCloud buckets
A bucket can now be configured in the AWS GovCloud (US). Previously, only buckets in the AWS Commercial Cloud were supported by the Capella Push to S3 data delivery mechanism.
For more information on Push to S3 data delivery, see the Push to AWS S3 Data Delivery Overview or the Push to AWS S3 Data Delivery Configuration articles on the Capella Support website.
'Cart' as panel on Search page
For ease of use and to streamline navigation, the Cart is now embedded as an expandable panel on the Search page instead of being displayed as a separate page.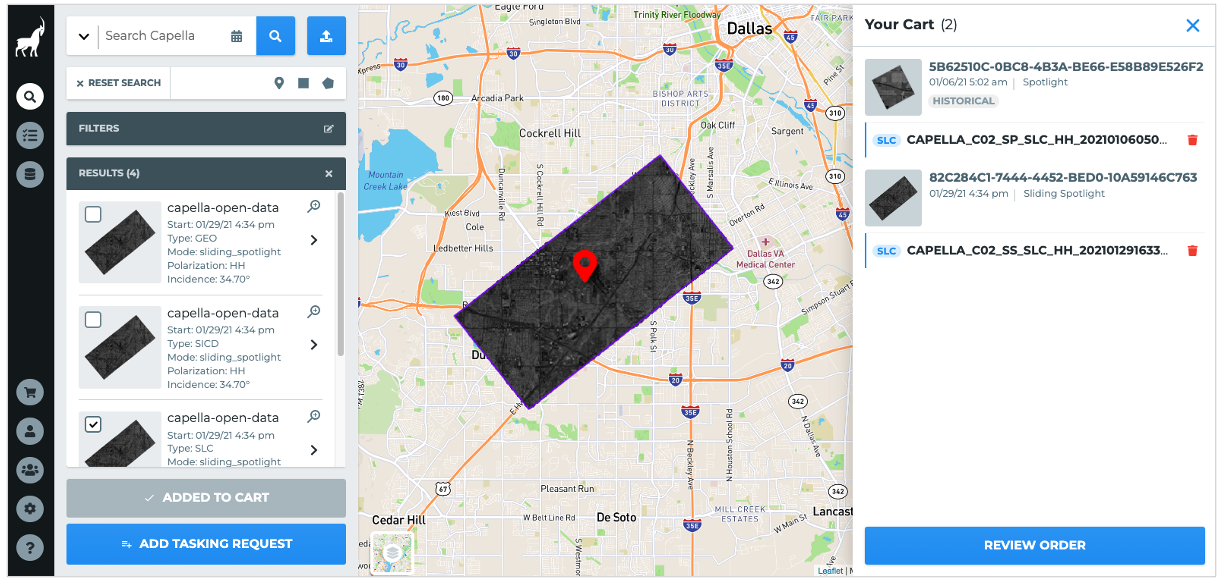 Fixed
Fix to 'Back to Search' after executing a date-based search or applying multiple search filters
Fix to cost estimation for Background tier area tasks